RFx ENQUIRIES
RFx ENQUIRIES are used for single-round market research or rapid procurement. They are also suitable for gathering data on supply conditions and other information which will support the contracting authority's supply options. Potential bidders are sent an email with a direct link to the enquiry module in the eAuction software. There is no need to fill out an application form and register. An RFx ENQUIRY can easily be combined with an eAuction and thus smoothly transition into a single-round tender. This module could also be used for cyclical enquiries.
NIPPON (Japanese Ticker eAuction)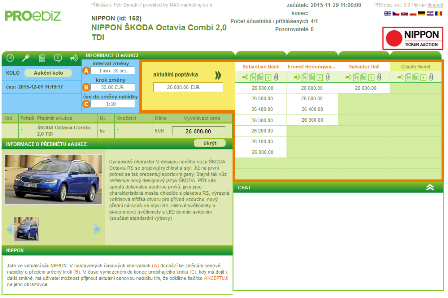 In this popular type of eAuction the buyer establishes a starting price which decreases by a predetermined amount at predetermined intervals during the Auction Round. Bidders must accept each price and any other changes in tender requirements to stay in the eAuction. The number of steps up to a price that is acceptable to the buyer can be set before the competition starts. NIPPON eAuctions are used for single items only and consist of two phases, known as the Entry Round and Auction Round. This type of eAuction is beneficial if there is a limited number of bidders and the buyer does not want to disclose information about the purchase price to suppliers. NIPPON is usually used for buying, but may equally be used for selling, with the price increasing rather than decreasing.
HOLLAND (Dutch eAuction)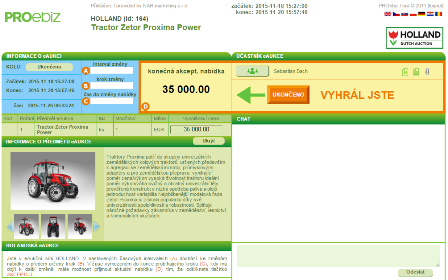 HOLLAND is a type of buying eAuction in which the price automatically increases by regular increments at regular intervals predetermined by the buyer. The auction ends as soon any bidder accepts a given price, thus winning and eliminating all the other bidders. The starting price is set unrealistically low. It is used for a single item only and takes place in two phases, known as the Entry Round and Auction Round. There is no minimum number of participants. It can be used for selling as well, with the starting price set unrealistically high and then decreasing.
SEALED BIDS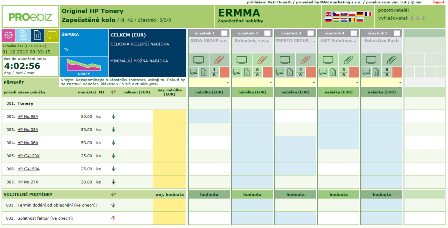 This module protects administrators and other staff at the buyer from suspicion of leaking or otherwise misusing information and thus increases the security and transparency of tenders. During rounds where bids are submitted there is no access to detailed information about the bids. The administrator registers the submission of bids, but doesn't know their value. The bids are "opened" only at the behest of the administrator or other designated person or commission. It is also possible to continue a sealed auction with an Auction Round and the bids are opened after it ends.
NATIONAL GOVERNMENT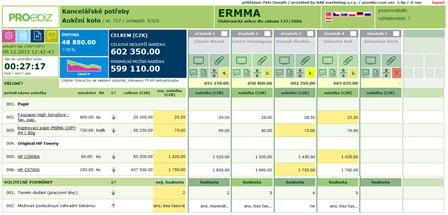 The GOVERNMENT module enables eAuctions to be carried out under the relevant national public procurement law. PROEBIZ software is adapted for the national legislative requirements for public procurement (currently for the Czech Republic and Slovakia), including the appropriate terminology, electronic signatures and other legislative and security rules. By law this module requires the installation of an SSL certificate to encrypt sent and received data. The module has the required certificates and tests. Using NATIONAL GOVERNMENT, eAuctions can be carried out for above-threshold and below-threshold public tenders, as well as small-scale public tenders in the Czech Republic and low value public tenders in the Slovak Republic.
AUCTION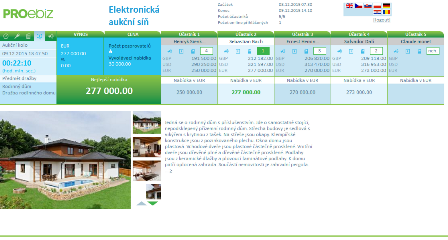 This is a single-item selling eAuction reflecting the customary features of a standard auction in a virtual environment. There is an expanded space dedicated to a description of the item to be auctioned, photographic documentation, technical drawings and other necessary attachments.
COMMISSION
This module allows for the inclusion of one or more members of a commission into the eAuction process. There are commissions for the approval of tender documentation and competition documentation before the start of an eAuction, for the approval of bids, and for the approval of the result of an eAuction after its completion. Commission members or a whole commission can be selected to monitor the entire course of a tender including the Auction Round. The form for the approval of results includes a statement declaring the impartiality of the commission member, which may be replaced by a client's own version.
PASSWORD MANAGEMENT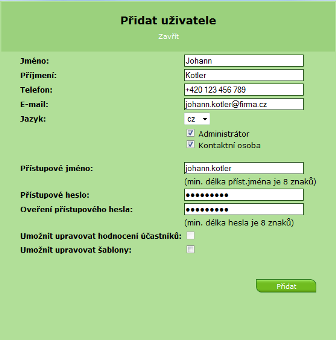 This feature ensures an automatic request for users to update passwords after a pre-set period. It is particularly suitable for holders of ISO and other such certificates, and for anybody who is concerned about data security. When a password expires every administrator is notified that the password needs updating and prompted to change it.
CATALOGUE OF ITEMS
This allows the saving of auctioned items into a catalogue and the subsequent searching and filtering of this list for further eAuctions. Items selected from the catalogue can be pasted directly into a new competition so the content of an eAuction can be put together quickly and easily.
WEB PUBLISHER

The PROEBIZ system automatically generates a list of ongoing eAuctions. Using WEB PUBLISHER buyers can publish a list of their eAuctions on their own websites. The basic version includes 12 items of information, including the name of the tender, date of commencement and a link to the application for participation. Also available is WEB PUBLISHER Advanced, which has an expanded range of items such as displaying the winning bid and the actual winner, amongst others.
MANAGEMENT OF USERS

MANAGEMENT OF USERS can be used to prevent administrators from viewing and interfering with each other's tender settings or entering each other's eAuction halls. Depending on the permissions set, after logging in an administrator sees either everything (as does a Superadministrator), or only their own eAuctions, or possibly all eAuctions but with limited rights. This module protects against careless mistakes and potential manipulation.
INDIVIDUAL TERMS AND CONDITIONS
The user has the option to edit, save and view the terms and conditions for potential participants when they log into the eAuction, and seek their approval of their contents. There can be multiple documents with separate approvals, and the time of the current version is saved.
FACELIFT OF THE PROMOTER'S eAUCTION PORTAL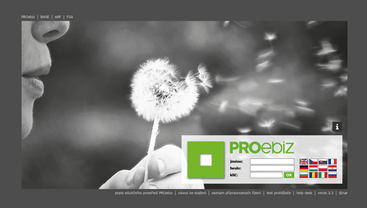 This feature enables the personalisation of the PROEBIZ log-in page. It allows you to upload and change your chosen homepage background in PNG format and any associated text. In this way you can match the entrance portal with your corporate identity.
EXPORT DATA
This feature enables the export of all data that has been submitted during a tender using just one button. You can then download a ZIP file containing all the reports, invitation, attachments, images and other data from the tender all arranged in a clear structure.